from Celina-Marie Kuehne /
A long weekend for some public holidays was in sight, and it was time for a short trip.
Due to the nice weather, my mother and I jumped into the car and took a ride, 7 hours up to the capital of the Netherlands – Amsterdam!
I did not know anything about Amsterdam, only that it is a city with plenty of canals, bicycles and famous for cheese, tulips, and wooden shoes!
---
First, a little History…
Amsterdam is the nominal capital of the Netherlands, or as many people in Europe call it, "Holland, "and it is located near the North sea.
It was and still is a world-famous commercial city with a long and eventful history.
First mentioned in the 12th century, fishermen settled there, and the city developed more and more until the "Golden Ages" in the 15th century. During this time, Amsterdam was one of the biggest marketplaces in the world. Ships sailed from the Amsterdam harbor to the Baltic sea, Africa, and places like India, Sri Lanka, and Brazil, forming a worldwide trade network. 
The old city is built of wooden poles placed 15-20 meters in a sandy layer because it is about one meter below sea level.
In the Old Amsterdam center, 165 canals, called "Grachten, "run in a circle through the city, flanked by narrow high houses. Many folding bridges span over the canals to connect the roads. So, there are 90 small islands, a little like Venice in Italy!
---
The city
The famous flower market exists since 1862, and it's stalls are located on boats. Here you can buy every kind of flowers, especially the famous Holland tulips. The city center of Amsterdam is very crowdy. There is less car traffic, but thousands of walking people and really more than 1 million bicycles. Everywhere are bicycles!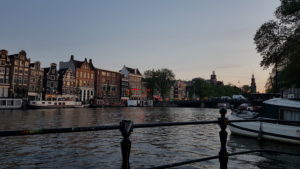 A lot of people also live in house boats in the canals. That are boats covert as apartments or a kind of tiny houses on rafts. 
In Amsterdam, you can find many flea markets like the oldest one on Waterloo Plain and many, many small second-hand stores called "Vintage stores"  Here, you can find nearly everything!
It is also legal to buy some Marijuana for smoking or even as cookies or lollipops in shops all around the town.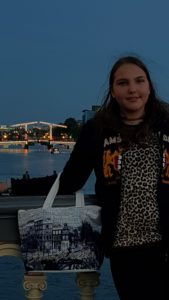 Amsterdam has many famous old buildings like the Royal Palace in the city center or the Rijksmuseum. But there are also modern buildings and architectural highlights across the big canal. You can see pictures from world-famous painters like Van Gogh, Rembrandt, or Vermeer in many museums. There are a lot of art galleries and places to see modern art.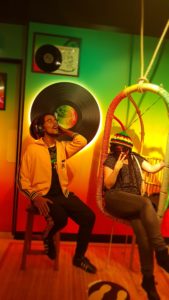 ---
Outside of the city…
But there is something near Amsterdam that is also world-famous. A lot of giant old Windmills!
They are not like the small wind turbines in Texas for water extraction. Most are from the 17th century, around 40 meters (132 ft) high, and they were built to help the people with their work. With the wind from the flat land around the canals, grain was grounded to flour; they were used to saw timber or for the production of oil and paper.
So, we drove to Zaanse Schans, where you can see the windmills working and can go inside some mills. They are run by volunteers now for the tourists. There also is an old village with handcrafts from the old times, like a cheese and dairy factory with handmade cheese or a tinware factory, and you can see a lot of sheep on the wide grasslands.
---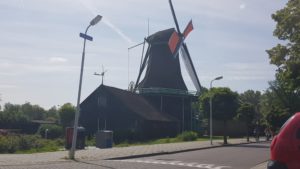 My Fazit
So, the trip to Amsterdam was a very cool experience!
It is a living multicultural city, old and young in one!
It is history, art, cuisine, and a lot of charm!
And I will come back someday…
---