Once again, a long weekend – May 31 (Memorial Day) is a holiday, and thus, once again, time for a short trip. The destination this time is again Fort Worth, with Rodeo and Cattle Walk. Yes, we've seen it before, but because we liked it so much in 2020 and it's only 3.5 hours away… we'll do it again!
Well, if we are already so far in the north of Texas… maybe we'll take a piece of Oklahoma with us. (After all, we want to have visited all 50 states).
---
Fort Worth Stockyards
The Stockyards is a historic district from the days of trading in the famous longhorns and various other critters. Then, this was virtually the marketplace for buying and selling – opened in January 1890 – with connections to the railroad. Today, it is more of an entertainment district called "Cowtown," with bars, stores, many events, and the twice-daily Cattle Walk. On weekends there is a rodeo in the arena (formerly the stock exchange for the livestock trade) and party with line dancing in various country bars and clubs.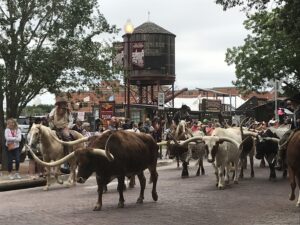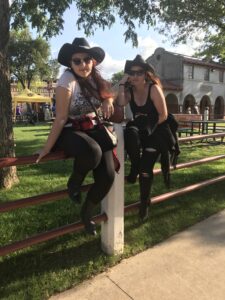 Of course, we want to see the rodeo! And unlike Pullman City (Harz) in Germany, this is a live competition every weekend. Who gets the most points wins the prize money! That's why many "cowboys and cowgirls" still earn their living here. On Fridays, they arrive with big horse-drawn wagons and trucks, and on Sundays, they go back to the farms (or to the office on Mondays). Competitors come from Arizona, Texas, California, Florida, or elsewhere. Rodeo here is championships, not just fun. After the "show," people meet outside on the front lawn or in the bars/saloons to line dance with live music and whiskey.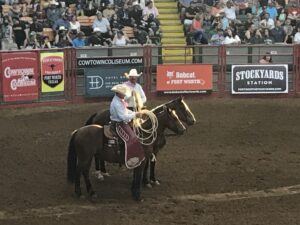 ---
Oklahoma City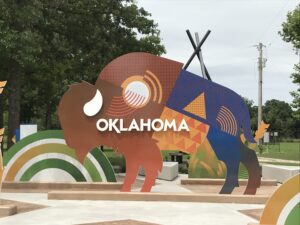 We wanted to go "just a little bit" to the neighboring state above Texas, but why not go straight to Oklahoma City? It's only a 2-hour drive and… well, you can have a look at it!
So we arrive in Oklahoma City without prior information or expectations, and… well… somehow, it seems to us as a somewhat unsorted larger small town. The Capitol – here the seat of the state government – stands somewhere like outside the city; from Route 66 are only two, three inconspicuous buildings left.
But maybe the Brickstone District keeps its promise – it is supposed to be the "party mile," similar to the Riverwalk in San Antonio, but with former brick factory buildings, which are now used as restaurants, bars, and entertainment buildings.
The Brickstone District is also quite nice, and there is a big baseball game going on right now. From Corona, you don't notice (in the afternoon), and we stroll relaxed through the city until… yes, until we get the idea: OK, it's already 7:00 PM, we could eat something! Ha!!! And this is where the fun stopped. The baseball game had just ended; however, unlike Texas, there was NOT ONE food truck outside the stadium! Only ONE bar was open (which we were not allowed to enter with a child under 21) and one Italian restaurant, where you had to have an advance order (because of the restrictions), and no walk-ins (guests without reservations) could be served. Hmmm… and now? It is meanwhile some after 8:00 PM, and the hunger becomes noticeably stronger. What the heck: In case of doubt, then just Mc Donalds! Approx. Twenty minutes later, we determine that probably all stadium visitors had the same idea – long car queues, all the same, whether Subway, Arby's, Burger King, KFC, etc. When we entered our order in the Sonic machine, the light was suddenly switched off. At 9:00 PM is closing time (e.g., Corona), and we also do not get what we had ordered, no matter what. By Texan standards, we feel a little fooled! Like in Germany: everything is closed! Bedtime at 10:00 PM!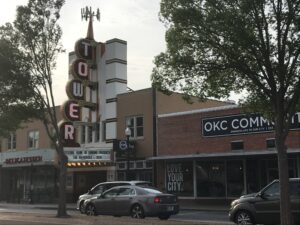 But you have to make the best of it, and experiences like that are part of it. Those are the things you remember with a smile in a few years: "Remember? Back in Oklahoma, when there was nothing left to eat in the evening!