from Celina-Marie Kuehne /
What is behind this project, and why did I start?
When the corona pandemic started in 2020, and everyone had to stay home, many people (regardless of age) were lonely and sad. With this project, I wanted to put a smile on people's faces and give them courage.
---
I distributed the brightly painted stones on the Violet Crown Trail in Nichols Park in Austin (TX) and thought the passers-by would be happy about it. The next day all the stones were gone, which initially surprised me but also made me happy.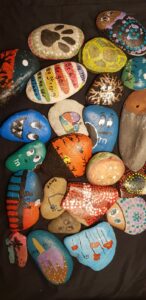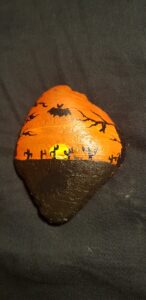 People liked the stones! So I decided to repeat this project from time to time. One day I hadn't even handed out all the stones when I met a family with two young children who proudly held some of my stones in their hands. That made me incredibly happy.
---
I also got a lot of positive feedback on Instagram, so I opened an account, "s_milestone_,", especially for this project. Here I regularly publish selected stones and announce distributions. I also report on this project on my homepage, "kuehne-art.com."
Sometimes it's just little inconspicuous actions that make the world a little more beautiful …
If you like this project, you can support me here:
Thank you very much, and follow me on Instagram or become part of the milestone community!
By the way: every year on January 11th. is an international (s)milestone-day. On this day, the artists of the colored stones are supposed to distribute some of their masterpieces in their neighborhood so the community can enjoy them. Then they should share pictures of it on social networks and inspire many more people for this project!