from Celina-Marie Kuehne /
Because I'm very interested in arts, my parents and I visited the UMLAUF Sculpture Garden & Museum in Austin on March 7, 2021.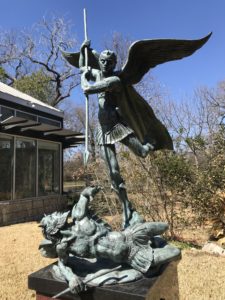 The park exhibits the work of Charles Umlauf and other artists in a museum and a beautiful garden setting. Many classical bronze and stone statues and some modern sculptures are surrounded by Texan native plants, water points, and a small waterfall. The sculptures range from haunting expressionism to detailed neoclassical realism to lyrical abstraction. You can see religious objects, animal sculptures, or classical sculptures such as "Ikarus" or the "Spirit of flight." In the garden are many objects of female sculptures with various backgrounds. The modern objects are the Design Shrine 2020-Projects "Oculi" or the "Parallel Flux."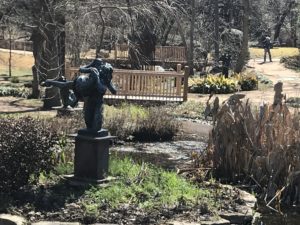 I saw and learned how well nature and art could go together. The harmony between the art objects and the plants was beautiful.
I learned some exciting things there because there was a description of each art object on the park map. I also found it interesting to see and learn about the artist's history.
---