It's Spring Break 2021 – usually, everyone goes to Florida, but we've already been there. So: Look for a new destination and a new route! And again, it should not be too far, but still varied. And of course, we soon found what we were looking for and "planned" (no, we didn't really plan anything) a trip from Las Vegas via Route 66 to the Grand Canyon, and then at the request of a young lady, we went to see cacti in southern Arizona. So book flights and rental car and off we go…
---
VIVA, LAS VEGAS
From Austin, Texas, to Las Vegas, Nevada, one flies sporty 2.5 hours, to the pleasure still with 2 hours time shift (thus almost without time loss). Then the usual wait for the rental car – we had not booked a specific and got virtually a baby, a new car that did not even have license plates. Great, then we have the Highway Patrol or State Trooper stuck on the bumper… (no, we didn't have them after all…)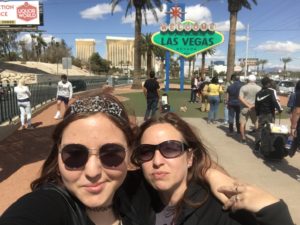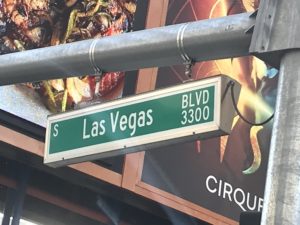 Ok, Las Vegas – gambler's paradise, party city, tourists, and weird guys on every corner! That's what you expect from Las Vegas – and no, you won't be disappointed! The city of bright lights and colors! Casino hotels as replicas of European cities like Cesar's Palace with Rome look, including Colosseum and Trevi Fountain, the Paris with Eiffel Tower, Opera and Balloon, the Venetian and Palazzo in the look of Venice, with Campanile Tower, Doge's Palace and gondolas sailing over "canals." We had chosen the Treasure Island Hotel, with an evening pirate show and great views of the "Strip." The Luxor as an Egyptian pyramid, Mirage as a former show stage of Sigfried and Roy, the Excalibur as a castle or New York as a New York skyline, and countless modern casino hotels make quite an impression, but after 10 miles of walking across the Strip, you don't really care about anything, even the lure of the thousands of slot machines, blackjack or roulette tables.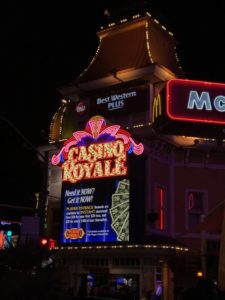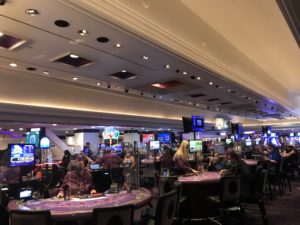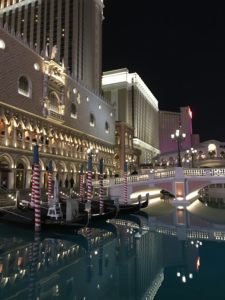 ---
GET YOUR KICKS ON ROUTE 66
After a last picture stop at the "Welcome to Fabulous Las Vegas" sign, we first chug through the Nevada desert to Hoover Dam – a gigantic dam built in 1953 that supplies Las Vegas with electricity and water and is also the border to the state of Arizona.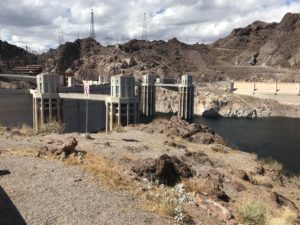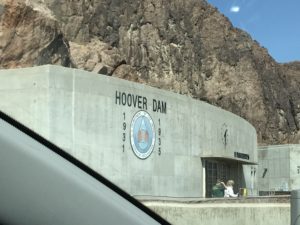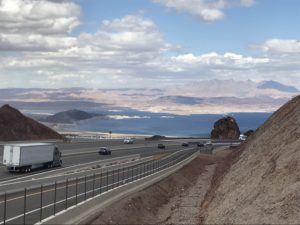 From here another hour or so south, and we're back on America's Mother Road – Route 66 – via Kingman and Seligman toward Flagstaff. A bit of nostalgia arises in the pretty and lovingly restored mini-towns with colorful advertising signs in 60s style and decoratively placed old cars. In Seligman, we spontaneously decide to spend the night and book ourselves into a historic motel. Then we stop at Lilo's Cafe, a lady from Germany who runs a small but well-attended restaurant here in no man's land. The fright about the noticeably cooled temperatures and the sight of the snowplow passing by at night should not have been in vain…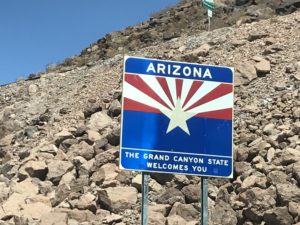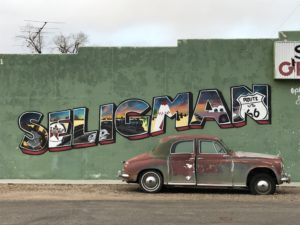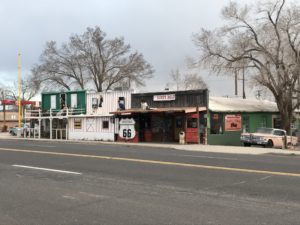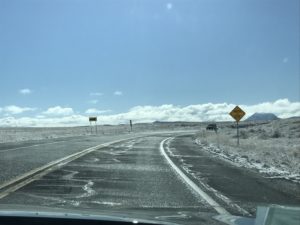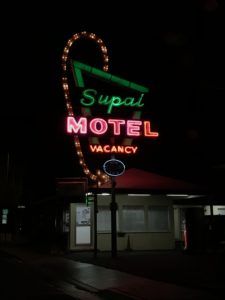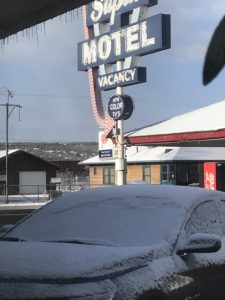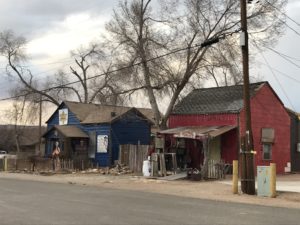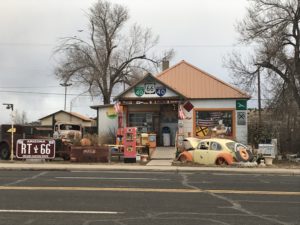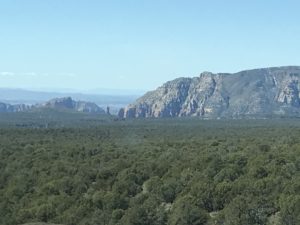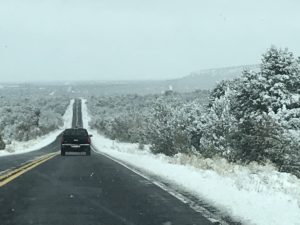 ---
THE CRAND CANYON
Arizona = desert + sun… yes, and then you open the curtains in the morning, and there's a good 25" of snow, and it's 19°F! Super… because winter equipment together with an ice scraper and winter tires is not! So first of all, we relaxed and slid to the next gas station and let the car thaw during the breakfast coffee. So the nice inconspicuous little snowplows we will see today even more often.
Unfortunately, despite the inclement weather, hundreds of other tourists had also pushed towards the Grand Canyon, so that the queue at the entrance seemed to have no end. Nevertheless, we were rewarded with beautiful views of the wintry Grand Canyon. The dimensions, however, you can absolutely not grasp, even if you stand directly at the rim, so on the precipice. The 277 miles (446 km) long canyon is about 10 miles (16 km) wide and 1 mile (1.6 km) deep. Unfortunately, thanks to Corona, we could not take an airplane or helicopter flight to better capture the gigantic "hole in the ground." Finally, while looking for a place to stay in the National Park, we met some "animal locals"…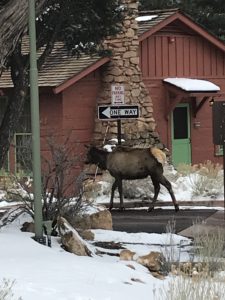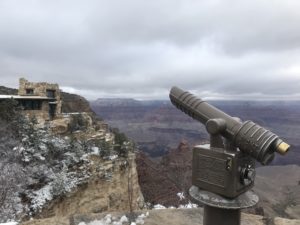 And again, we spontaneously decided to spend the night in Tusayan to marvel at the natural wonder again the next day in imperial weather. It had something of a rustic winter vacation, but summer can anyone!
---
CACTI, CACTI, CACTI
What else can you expect in Arizona? Well, Western fans, listen up! Right: desert and huge cacti!
First, you chug through forests towards the south… then it gets more and more barren… and you ask yourself if all this was just TV pictures… But then, in one fell swoop – cacti upon cacti. Saguaro cacti grow only here, become up to 200 years old and reach proud heights of 10-15 meters!
We stop spontaneously, of course, in Black Canyon City and climb the local trail. We are definitely not disappointed and make our first acquaintances with the spiny fellows.
After an overnight stay "somewhere in nowhere," we drive a bit further towards Tuscon to the Saguaro National Park. Here are the largest and oldest cacti at home. The size and variety of the green spines are impressive. Celina makes friends with "Bob," the spectacled cactus, mom gets bitten in the finger by the dangerous fighting squirrel while feeding it, and dad has fun off-roading without an SUV! In passing, it should be mentioned that the temperature has risen again to a proud 80°F, and we could thus enjoy a first light tan.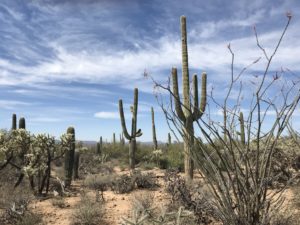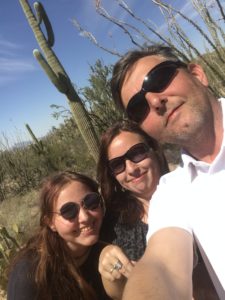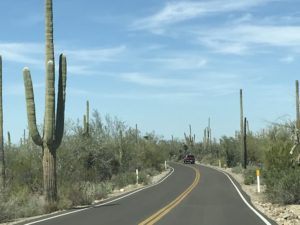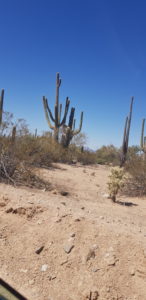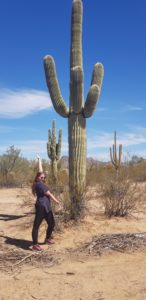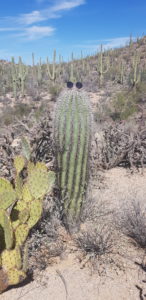 But now, after 5 days of input back to the Phoenix airport, return the now urban jungle, highway, ice & snow, and desert sand tested (and accordingly dirty) car, and start the night flight home to Texas.
All in all, another entertaining, exciting, and varied road trip!
---