from Celina-Marie Kuehne:
Graduation is probably the most important event in school life that people eagerly look forward to, especially in the higher grades. It's undoubtedly the case everywhere…. here at the high school as well. And this year, high school graduates were finally able to experience this important moment in person again. I was so happy that some of my friends had invited me to go because you can only go with a personal invitation.
Prom night
In the evening on May 21 was Prom (so to speak). Everyone got dressed up in fancy clothes, and most of them met their relatives and friends for dinner before the event. Afterward, we young people went to the "Balhour" to party and had fun.
There was music and some fun activities, but more importantly, we all got to spend time together again. Some people would soon be far away, like my friend from Finland, who was an exchange student at Austin High School for one year. Others will be studying at universities that are not just around the corner.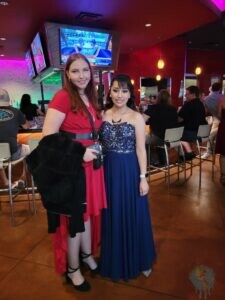 And didn't I get a beautiful tattoo there?
---
Girlfriends @ Zilker Park
We decided to meet again for a picnic in Zilker Park after the finals and before the graduation. It was a farewell party for our friend Funny because she had to fly home the next day. In any case, we will try to keep in touch.
---
Graduation
On June 03, Austin High School seniors' graduation was held at the Burger Center. The graduates all wore the famous Caps & Gowns (hats and capes) in our school's color – Maroon. Several speeches were given, including one by Principal Dr. Bedford and Superintendent Dr. Elizalde. Ms. Elizalde had put on extra shoes in Maroon color and proudly displayed them during her speech. But they were probably not very comfortable, because she took them off again right after 🙂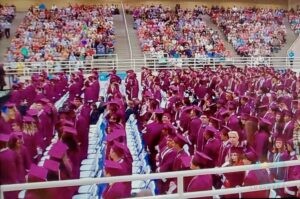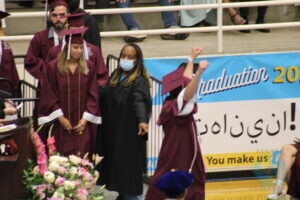 It was fascinating to experience these events, and now I know what's in store for me next year.