After Andrea quit her job, the solo trip across the pond to the still relatively unknown Austin was due in September. Meanwhile, Celina and Matthias would pursue their activities in Germany and continue to work on the household's dissolution.
So on September 3, 2019, we drove to the train station in Erfurt and released the beloved wife and mother on an adventure with an open end and the hope that everything would go well …
---
Andrea in Texas
It's September 3, 2019, around 2:30 p.m. local time – my Lufthansa plane lands in Austin, TX. So now I'm all alone with my suitcase, my laptop and mixed feelings and have about 4 weeks to prepare everything for "the big step." I am not completely at ease, but I bravely pick up my rental car and go – initially with a little panic – on the 4-lane Interstate (each direction of travel) to drive to my "home". I rented an airb&b in a house in a quiet residential area, so Tom and Lita, the owners, are delighted to have their first guest since the renovation. The two of them will be by my side more often in the coming weeks and will take care of me lovingly. This was also the case on the second day when my car had a flat tire. Well, that's a great start. So, again to the rental car station. "Unfortunately, we don't have a replacement vehicle at the moment but drive to the other station" was the answer I got. Ok, done: and lo and behold, I got a cool American van! Great! My house, my car, my palm trees! Perfect!!!
---
And now we come to the complicated part: First, open a bank account – because, without a bank account no apartment, but without an apartment, no bank account! But since there are people here who you only know briefly via the Internet, but who say to a stranger: "Aaa, come over first and then you can use my address for everything," you can do the point quite easily. We had actually already chosen a school for Celina during our summer vacation, and since one should live here in the vicinity of the school, I must now find an apartment. It can't be that difficult! So I looked for a real estate agent, made the first appointments … and returned to the aitb&b somewhat disillusioned due to the rental prices and the apartments' condition. Lita then brought some cake to comfort me, and in the evening she tried the new BBQ grill with me. Then I did the evening phone call with those who stayed at home (who had just got up). Next day, next attempt … but the housing offers in the school catchment areadidn't match our price expectations … no, that doesn't really fit. I've been playing the game for the whole first week, and my motivation wass falling and falling and falling …
---
However, thanks to a certain social media portal, I met a young lady from my old homeland, and we meet for a coffee. This meeting should change everything again! The two more well-heeled women I get to know afterward – now good friends – are completely flabbergasted and tell me to send my child to a "well-rated high school" … And for God's sake, not in the East Side !!! This throws now the whole "planning" over the heap … We had planned everything so well in advance, and now? International high school, nice apartment near the school … That is all supposed to be wrong ??? (Next doubts arise, but don't let anyone know!) But ok, you ladies have lived here for a long time, and you will probably know better how things are going here than I Newbie (a word for the newcomer that I will soon hear often) do. So I took a look at the two best schools in Austin, and accordingly also the environment and … I fall in love with the southwest area of our "small" metropolis! Green, green, green … hilly landscape, rivers, oak trees (which look like olive trees), like in Spain! Yes, I want to live here (and the other two are not asked … are not here either … and they will like that)!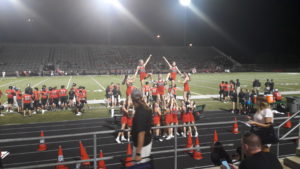 As a school for Celina, the S.F. Austin High School in Downtown seems the best choice, with many art classes and a good rating. Also, I found an appealing small apartment complex with a pool that will be our first residence in Austin. Pay the deposit by money order (what is a money order ???) and sign the leasing contract online … well, still a bit strange for us, but ok! We will have to get used to "everything online" here.
---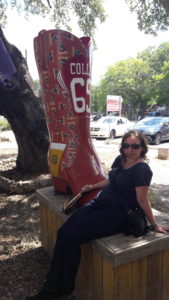 Now I have time off for the last week! My new acquaintances make me feel at home here quickly. A coffee party with the "German Girls" in Round Rock, the Pecan Street Festival, bats watching on the Congress Bridge, a Sunday tour to Fredericksburg with Classic Car fair in Johnson City, and of course the sightseeing trip to Mont Bonell and my new favorite location "Oasis" on Lake Travis should not go unmentioned here. Yeah, I want to live it here! The 4 weeks have passed quickly! Now buy a couple of western boots and an "Everything is bigger in Texas" shirt and then briefly back to Germany to take care of a few "little things" and then start a new, exciting phase of life with the whole family …
---
Arrival in Frankfurt, Germany: wow, it's cold, dirty and everything is so small here. Off to the train to Erfurt, where my taxi with the two neglected people to Weida is waiting … but with the knowledge in the back of my mind that it will only be a short time and then it goes back "Home to Texas."
---
Celina and Matthias in Germany
There they stood now; the two left behind. Who would feed us now? How do we get through the weeks without being puzzled by our mother? Participation in the parents' evening at Celina's "old" school in Weida in mid-September was essential when organizing the graduation ceremony (Celina would not attend anyway). Choosing a career after school (which we were absolutely not interested in given the occasion) was on the agenda.
So now try everyday father-daughter life for a few weeks. On the subject of food, we were very grateful to the local delivery services for having them. Otherwise, everyday life was relatively uncomplicated in terms of the general daily routine. After work or school, we finished some work on the house and started sorting things out according to their importance for the new home. At the same time, our house's sale was in progress, and of course, the phone call with our temporary emigrant was the highlight we longed for every day.
Despite the tight schedule we gave ourselves, we took some excursions on the weekends. This compensation for the weekly routine and the missing mother was important and necessary to survive the time! And, even if it sounds unbelievable, we managed to get through this situation without any arguments.
And then came the day of Andrea's return. We drove to Erfurt, 2 hours before she arrived at the Erfurt main train station, and could hardly wait. Celina made a special welcome shed, and now we waited on the platform. The train rolled in, and we searched and searched. And there she was with us again … in an orange Longhorn T-shirt and western boots with a Texas wink element in her hand.
The next trip to the US will be realized together again and was already set for November 3, 2019. Then the big step will be taken!
---