Actually, it makes almost no difference whether you live: in Germany or in Texas. Okay, the correct comparison would be whether you live in Thuringia or Texas. We are talking about federal states. Alternatively, one would have to compare Germany with the entire US, which would not make sense due to the differences in size. Even if such comparisons are currently all too readily used to assess statistical results. Just the weather, the people, the living habits, the education, the attitude towards life, the interaction with other people, the social conditions, the food, the leisure activities, the cars, the landscape … All right, it makes a difference. And politically, too, there are definitely significant variations in one direction or another.
---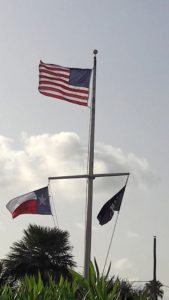 But how do you get the idea to move to Austin, TX, in the USA to find your future center of life there?
Why do you decide to take such a step and give up everything in your familiar surroundings?
What do you want in a foreign country, although everything is supposed to be better and more beautiful in Germany?
And not all people here are proficient in the German language!
The answers are quite simple -> A cold evening in Germany with more than unpleasant weather plus imposed problems, whose responsibility is not to be sought with one (demonstrably!). Further, you may be straight with the complete renovation of your house and no end in view. In addition, you take a computer with an Internet connection, a good bottle Jack (alternatively Jonny or Jim), and a boring television program, which should be present to the sufficiency and must lead to wanderlust. Then you get the stupid idea to participate in the Greencard Lottery without knowing what this might mean. And there was this song, which did not want to go out of our heads. The profundity and message affected us so emotionally the first time we heard it and raised the question, "Is there more to life?". The song is by Nick P. and is called "Berlin". Apart from that, it is very helpful if you have never been to the USA before, as it underlines the bizarreness of the plan. It is best to do it through an agency (in our case, TAD) and only tell your wife the next day that she is a participant. Then you go to bed slightly dizzy and go about your normal business for the next few months. And then you wait…
If you've waited long enough, you block out the thought of being drawn as a winner and focus on your daily work… until the news comes that your beloved wife has been drawn in the green card lottery … and now?
Now you hesitate a bit about whether it was a good idea to participate there (arguments with the winner should and may, of course, be conducted), and finally, you fill out all the documents and submit them to get an appointment for an interview at the US embassy. But it is also important to buy a US flag in the meantime and hoist it on your own property so that the neighbors can also put it on their questionable faces. It would be boring otherwise…
---
Now you prepare yourself intensively for the appointment at the embassy, and apply for an English statement of the existing assets at the house bank (which you then get only after multiple requests on the day before the appointment at the consulate because the bank forgot to create it), make the medical examinations and vaccinations before of course, and then on the day of the interview, of course, be too late… But the staff there are extremely nice and helpful and even have understanding for chaotic people like us. Now you answer all the questions (of course, questions for which you were not prepared) and then go with a "YOUR VISA ARE APPROVED" relieved and nervously completely distraught from the consulate to the next restaurant, "To the golden seagull" ala Mc Donalds…
---
Then you book a flight to New York because you – or rather your wife – would like to do the immigration there and stand after a 7-hour flight 4 hours in the hopefully right queue.
After answering all questions (especially how many cigarettes you have with you), you can now enter the United States of America… and look for your cab, which you had ordered 2 hours ago… But it was still there! It wasn't yellow, but it was a Maserati. Cool … and with it, you are now driven through NY.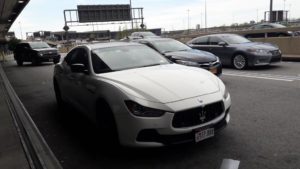 After extensive visits to NY and Washington (here more about immigration in New York and Washington), you fly back to Germany with a good feeling and know exactly where you want to live. And exactly in … well … America somewhere…there….
---
So book a vacation for the summer to find the right place. But where is it? Florida or Washington, LA, or San Francisco? Ask Google… Answer from Google for one of the best places to live in the USA… Austin! Yes, on to Austin, but where is that? Google says that it is the capital of Texas. Okay, we learned something again. Until now, we thought Houston or Dallas was the capital, but we never heard of Austin. Anyway, on to Texas! After all, this is the land where the cowboys ride through steppe landscapes and deserts. The land with Indians and cacti. That will be exciting!
Landing in Houston (we could fly there with an A380).
Immigration, well … it was the 04th of July – Independence Day. Not optimal to meet highly motivated officials, but we got our stamp on the passport (strangely 04. June?). Anyway … let's go!
First trip from Houston to San Antonio and then to Austin. And why is it so green here? Who put all these forests and green meadows here? Karl May lied to us! No steppe or desert… but pretty…
On to Waco and via Route 66 to Amarillo and then visit neighboring states … Oklahoma, New Mexico, Utah, Arizona, and Colorado. We saw a lot and learned a lot! Then again, quite relaxed to Houston to the airport. Only the traffic jam was stupid because we arrived at the airport and the Lufthansa counter was already closed. But they took us back to Frankfurt (unfortunately)… (a detailed travel report can be found under Summer Vacation in America).
---
So, and now? Okay, the Austin thing has to be checked out! So let your wife quit her job, fly to Austin for four weeks to check and, if necessary, prepare the move and stay back in the German province to deal with the child's school about the prom of the not aspired graduation. Also, let the spouse find out about bank accounts and schools for the female offspring and, if possible, make it binding… It is an advantage to have a wife who can do that… (and who has already spent some time in the USA). If she can't avoid making new friends on the spot, then you have to deal with it.
---
Note: There are employers who do not necessarily share such decisions to move the center of life with joy but try to influence people by their partially qualified statements. Don't give a damn… you can't help bitter people in this way either. But not all of them are like that… It should also be pointed out that the employment agency does not accept a dismissal due to the transfer of the center of life to the USA as a reason and imposes a blocking period on the person concerned. One has paid only many years into the appropriate protection instruments. Yes, it´s clear… Only good that other persons get the money also in such a way. But anyway, thanks for nothing!
At this point, we would like to express our heartfelt thanks to all the people who have tried to talk us out of this project with their competent insider knowledge from radio and television!
---
If now the wife and mother, after felt eternity again in the Longhorn T-shirt and Western boots, enter the home realms and confirms that it is obviously quite nice in the chosen region, then you have no choice! You have to realize for yourself that the basic idea may not have been completely stupid after all and that it is now time to convert the remaining household into monetary assets.
Well, that's just how it is done! It is all sold. One has, anyway, far too much stuff. And one thing we can assure you… You will miss almost nothing!
So, next step! Fly back to Austin… And this time by direct flight!
---
Arrival in Austin…
A lovely "small" city, but the Capital of Texas. So sweet… about 1 million inhabitants, company headquarters of Apple, Facebook, Google & Co… cute street dumplings… lots of green, culture, and life… and a lot to discover!
Now we are there (each of us with two full suitcases and nothing else).
We have no money, no car, no plan, but the weather is nice, and we have an apartment… somewhere (and in the hotel, the toilet was clogged). So best conditions to dare a start into the new life!
---